No matter whether you are a newcomer when it comes to cryptocurrency trading or a vetted professional trader, you will appreciate the functionality, features, as well as the overall trading experience offered by eMarketsTrade. Even though the company is has joined the Bitcoin craze just a few years ago, it has already started to gain popularity.
About eMarketsTrade
eMarketsTrade was launched in 2014, which makes it one of the newest cryptocurrency trading companies. It offers many cryptocurrencies among which are Bitcoin, Bitcoin Cash, Ethereum, Litecoin, Dash, Monero and more. eMarketsTrade is currently available on MobileTrader, WebTrader, as well as on MetaTrader 4. Using this website for cryptocurrency trading has numerous pros and just one main disadvantage. Namely, that it is still not available in the United States. The minimum deposit amount is set at 250 USD or EUR, while the minimum withdrawal amount is 130 USD (80 GBP or 100 EUR).
Benefits of using eMarketsTrade:
Suitable for traders with all levels of experience;
Offers training and many free training materials to users;
Provides daily market outlook news;
Has a great selection of account types;
It's very easy to use;
Types of trading accounts
Upon signing up eMarketsTrade, you will be asked to choose one of five account types available on the site, the price of which varies from EUR 2,500 to EUR 100,000. All of them provide access to the company's webinars, seminars, daily market reviews and the chance to trade on the platform. However, those priced EUR 10,000 and over also come with no withdrawal fees and a welcome bonus.
Final verdict
Overall, eMarketsTrade is a well-developed trading platform that was effectively designed to meet the needs of all types of traders. It seems to have a customer-centred approach since it offers a 24/7 client care service via phone, email or live chat and it makes a daily effort to keep its users well-informed about the world of trading.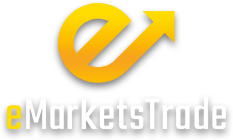 Official website:
emarketstrade.com
Year opened:
2014
Account types:
Bronze chain (€2500)
Silver Chain (€5000)
Gold Chain (€10 000)
Platinum Chain (€50 000)
Diamond Chain (€100 000)
Commission fees:
Depending on account type
Minimal withdrawal:
100 euro
Pros:
Easy to use for traders of all levels of experience
Free training and materials for all users
Daily market news
Various account types
Client support:
24/7 via phone, email, livechat